So looking forward to Benny Turner's sets at the Blind Raccoon showcase. For those that don't know, Benny is an exceptional bass player and broth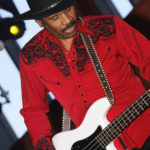 er of Freddie King. Here's a synopsis of his very rich life:
After 60 years in the music business, performing gospel, R&B, soul and blues everywhere from the Chitlin Circuit to the Apollo Theater to the far reaches of the globe, Benny Turner has taken his rightful place on center stage.  A career sideman to iconic musicians such as Dee Clark, The Soul Stirrers, Mighty Joe Young, Marva Wright-Blues Queen of New Orleans, and his brother the late Freddie King, Benny is a new shining star in the blues world.  Singer, songwriter and producer, his critically-acclaimed latest release, "When She's Gone," contains the 2016 Independent Music Awards Blues Song of the Year, "I Can't Leave."  Benny's soulful singing and unique lead bass playing are both captivating and entertaining.  One taste of his real blues will leave you wanting more!